Welcome to Ron Mills and Company
Your one-stop shop for custom equipment, prototype and production machining.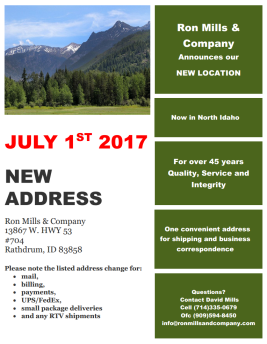 Custom Design and Fabrication

Ron Mills & Company has a reputation as an "outstanding performer" in the custom design and fabrication of machinery for all aspects of industry. We work closely with your company to manufacture your parts and components or to design and fabricate a custom machine for your direct application. We do everything from concept to fabrication.
"The Mighty Mouse" Family of Machine Movers

AKA Mice / Skates / Dollies

Our specially designed machinery movers (known as mice, skates, or dollies) are engineered, manufactured, and assembled in our modern facility located in Walnut, CA USA. We pride ourselves on excellent service and exceptional lead-times. Our machinery movers are light (aluminum bodied) machined from a solid billet and can have a capacity up to 100,000 lbs each.
Skateboard Manufacturing Equipment

Heat Transfer Machines, Boring Machines, Skateboard Presses

Our company *specializes* in all types of equipment for the skateboard industry. Our heat transfer, boring, and skateboard press machines are the finest quality available. Since every machine is built to order we can tailor to meet your individual production needs.
Lubrication Systems Division

Innovative Design and Engineering

Ron Mills & Company Lubrication Systems are used in a wide variety of industries including transportation Equipment, Automotive Manufacturing, Machine Tools, Petrochemicals, Primary Metals, Pulp, Paper, And Wood Products. Our vision is to improve the QUALITY , SERVICE , and LEAD-TIMES in the centralized lubrication market.
The Colibri 200 Blockmaker

The Collibri 200 cement block making machine was especially engineered to provide a highly relocatable unit. It's small size, and lightweight yet durable construction make it the ideal choice for easy transporting to the job site, no matter how remote. Manually operated feeder consistently delivers adequate amount of mix to the mold box, allowing rapid and uniform production of quality blocks. Our block machines are the safest in the industry and because of such are available in the United States. Cement, water and any of several fillers (clean river sand, clean ocean sand, decomposed granite, volcanic ash) is all that is required to produce strong building blocks.
---