About Us

|
CC Auth
|
Notable Projects
|
Privacy Statement
|
Terms of Use
|
Whats New
|
Our Company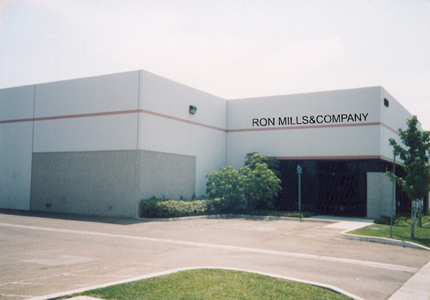 For over 30 years Ron Mills & Company has served, and continues to serve the manufacturing world by offering quality and service, backed by exceptional lead times.
As a high volume producer of machined components and parts in the areas of electronics, centralized lubrication, commercial, and many others, we not only know we can aid in your application for machined components and parts, but we may be able to save you additional costs in "set-ups", or "tooling the job", due to the vast industries we serve.
Ron Mills & Company has a reputation as an "outstanding performer" in the custom design and fabrication of machinery for all aspects of industry.
Ron Mills & Company is privately owned and operates twelve hours a day, six days a week. Ron Mills & Company is located in a modern facility in Walnut, California and houses some of today's most modern equipment.


Ron Mills & Company looks forward to serving your needs from blue print to reality, or concept (i.e. thought), to reality. We will work closely with your company to manufacture your parts and components or to design and fabricate a custom machine for your direct application.
Thank you in advance for your consideration.
IT CAN BE DONE
In life the man who misses all the fun, is he who says "it can not be done".
In solemn pride he stands aloof, and greets each venture with reproof.
If given the power he'd erase the history of the human race.
We'd have no radios or motorcars, no streets lit by electric stars.
No microwave or telephone, we'd linger in the age of stone.
The world would sleep if things were run, by men who say "it can not be done"
---